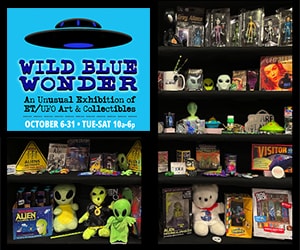 FREE ADMISSION – 1757 Ashland St., Ashland, OR. One mile west of I-5 Exit 14
Opens First Friday Oct. 6, 5pm with wine & hors d'oeuvres reception.
Runs through Oct. 31. 10am-6pm Tue-Sat. Free admission. 
Experience an unusual exhibition of 1000 pieces of ET/UFO art and collectibles.
PLUS: See RVML's extensive ET/UFO Book and DVD research archive.
RVML's ANNUAL HALLOWEEN PARTY: "From Elsewhere" 10/31, 6-8pm
Part of RVML's October "UFOs & ETs Month" and Ashland Chamber of Commerce Mystery Fest Weekend

RVML's Full Event Calendar: https://rvml.org/events