Prompt: "My Life's Purpose"
1st Place Essay Winner 2005
I wasn't part of a vast crowd of smiling automatons. I can safely say that without clouded perception. When I hear that the nation is at war, I feel the weight and resonance of sadness: when I see visible poverty while stepping 10 miles out of my own town, yet see that we only seem to care about spending $368.6 billion on an euphemistic defense that could be our medicine and education; when I read in the Yomiuri Online News that a Japanese photo journalist was battered by American servicemen for witnessing the destruction in Baghdad and see that this information never reached the States and never will reach here and an apology will never carry over the Pacific; when I discover that some care more about egotism than altruism; when I find that people can treat and part each other with malevolence; when I see the strange pompous patriotism...
read more
Prompt: "My Life's Passion"
1st Place Collage Winner 2003
"The Dawn of Peace" by Shanay Healy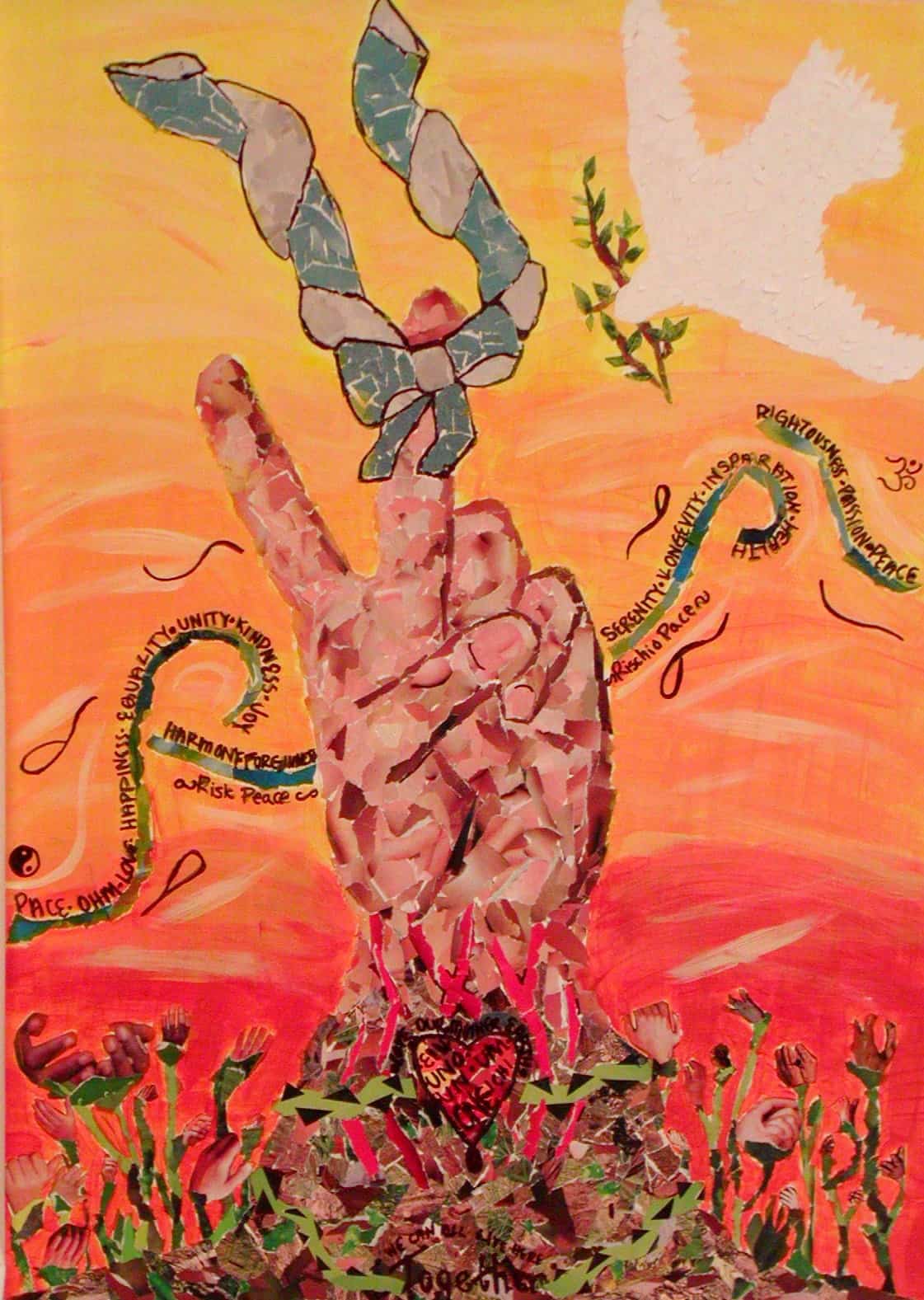 1st Place Essay Winner 2003
The music begins, unfurling on the night air. It hits me, awakening my feet, rushing up my legs, out to my fingers and the very top of my head. My neck lengthens, my shoulders pulling back as I cast a glittering smile across the audience like a net to reel them in. Smoky shadows from the looming Courthouse spread in a pool to the edge of the stage where brilliant spotlights throw back the darkness. A connection snaps into place and I feel them sit up a little straighter in their seats as I begin to give the music form. These movements are as familiar to my body as breathing, and as necessary to my continued existence. Is this why it is called live performance? Every neuron fires twice as fast. Little things come sharply into focus; a cigarette end glowing brighter for a second before smoke muffles it, three blonde heads flashing through the trees with shrieks of laughter floating behind them like sharp-edged clouds. I am an artist in my chosen medium of air. I paint an afterimage on the backs of my audience's eyes that they will never forget. I was born to dance. This is an indisputable fact and I have never tried to question it or mutiny against it. I would never want to. The epiphany hit me with the force of lightning the year I turned nine. While over at a friend's house, she had persuaded me to go with her to a beginner class for a recreational form of tap dance called clogging. On that cold winter evening in the gym with its hard floors and horrible acoustics I felt myself come alive for the first time. My body took a deep breath and my senses sharpened. Hearing, touch, and even smell dilated, even as my focus funneled down to the lady with the microphone in front of the class. She was built as solid as a rock,...
read more